Paper or Plastik Cafe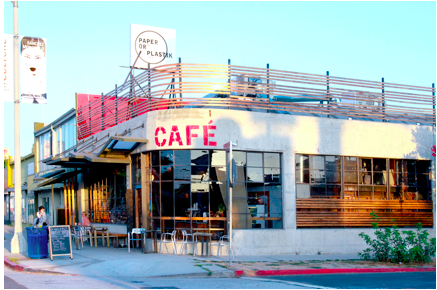 lively cafe vibe, house roast + rotating roasters, full-blown restaurant menu offering craft wine and beer, late night hours, comforting white noise.
WIFI yes OUTLETS yes SEATING indoor/outdoor FOOD yes! PARKING street + metered
Welcome to Paper or Plastik Cafe, an all-day restaurant with a spirited atmosphere and an undeniable personality. This mid-century building in Mid-City is commanded by tall warehouse windows on the facade and an exposed brick feature wall on the inside. Functioning as a breakfast, lunch, and dinner spot, it's no wonder that Paper or Plastic Cafe cycles in all sorts of people for all sorts of food-centric reasons. Yet what I love about this corner establishment is the constant hum and chatter that is ushered in as a result of its many offerings and extended hours. You get thrown right into the mix whether you're here meeting friends for brunch or want a frothy cappuccino to go with your new paperback. For digital nomads like myself, this is a great choice if you crave a mental and visual break from your home environment or regular, WiFi-equipped hangout. Regardless, you will not feel isolated here, and that in itself should be celebrated.
In terms of coffee, Paper or Plastik Cafe proudly serves their own house-roasted, single origin beans but also offers rotating feature roasts that currently include Black Oak Coffee Roasters, Coava, and Elm Coffee Roasters. If you are here to get some work done on your laptop, just avoid any tables that are reserved for dine-in guests (notice the signs) and you'll be fine. I would personally recommend checking out the cafe's upper-tier mezzanine. From this elevated perch—which can comfortably seat about six people—you can overlook the organized chaos below or peer into Mimoda Studio, a multi-purpose dance studio located right next door.
DIGITAL NOMADS TAKE NOTE: Weekends at Paper or Plastik are laptop-free!
HOURS 7:00-10pm Mon-Sat; 7:00-8pm Sunday COFFEE MENU $3 (espresso) - $5.75 (hot 'Almond Joy' brew)
Photo by: skimbacolifestyle.com