Verve Coffee Roasters, 3rd Street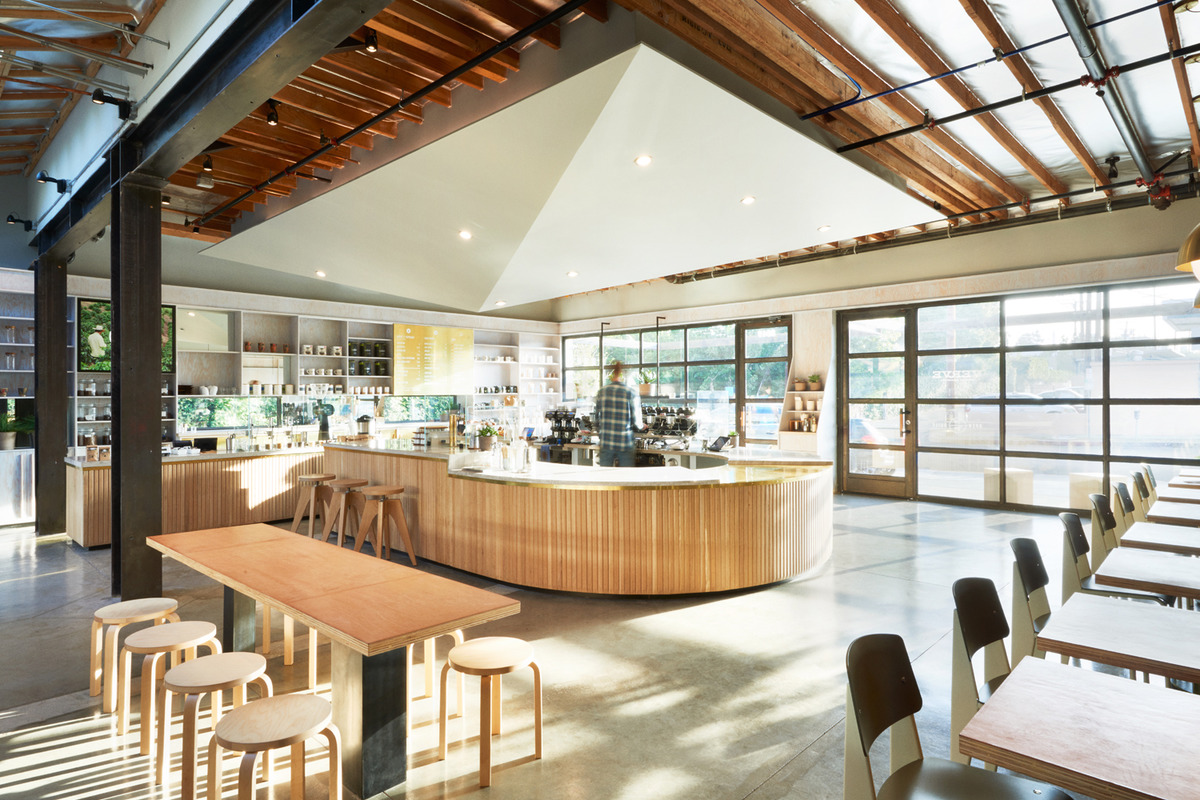 visually-arresting interiors, ample seating, verdant plant life*, hip merch, dedicated parking for cyclists.
WIFI yes OUTLETS no SEATING indoor/outdoor FOOD yes PARKING rear lot (1 hour max) + metered street
Hello, Gorgeous! That's my inner dialogue as I saunter into this other-worldly haven where beautiful design hits you like your first Piña Colada on vacay—especially after coming off the congested streets of L.A. A wood-paneled, serpentine-like bar weaves its way across the concrete floor, distinguishing the baristas from the rest of us while natural light pours in from the skylights overhead. There are lots of seating options to choose from, including a communal table and bar-style seats that line a mirrored wall. Balancing out the industrial-chic vibe of the steel and glass facade and exposed ceiling are wooden elements and leafy plants that seem to lift and balance the mood. Don't miss the rear patio—small but outfitted with vertical bike storage for all you daily commuters and cyclists—or trendy merchandise ranging from to-go vessels to beanies and punchy pins. Plus, you can pick-up their freshly-roasted beans and/or coffee-making equipment for at-home brewing.
*V-E-R-V-E actually means vigor, spirit, or enthusiasm, which this cafe succeeds at personifying. There's always a strong element of plant life featured in VERVE cafes, a nod to their dedication to sourcing and honoring quality coffee beans from quality farmers. I also happen to think that the abundance of plant life leaves one feeling refreshed and oxygenated.
FYI food is served daily from 7 AM until 2 PM.
HOURS daily 7:00-8p.m. COFFEE MENU $3 (espresso) — $5.5 (the "missile": a strong iced coffee drink)